Apple's Australian Customers Get 7 Days of AppleCare+ For Free
2021-10-12
75
Posted by 3uTools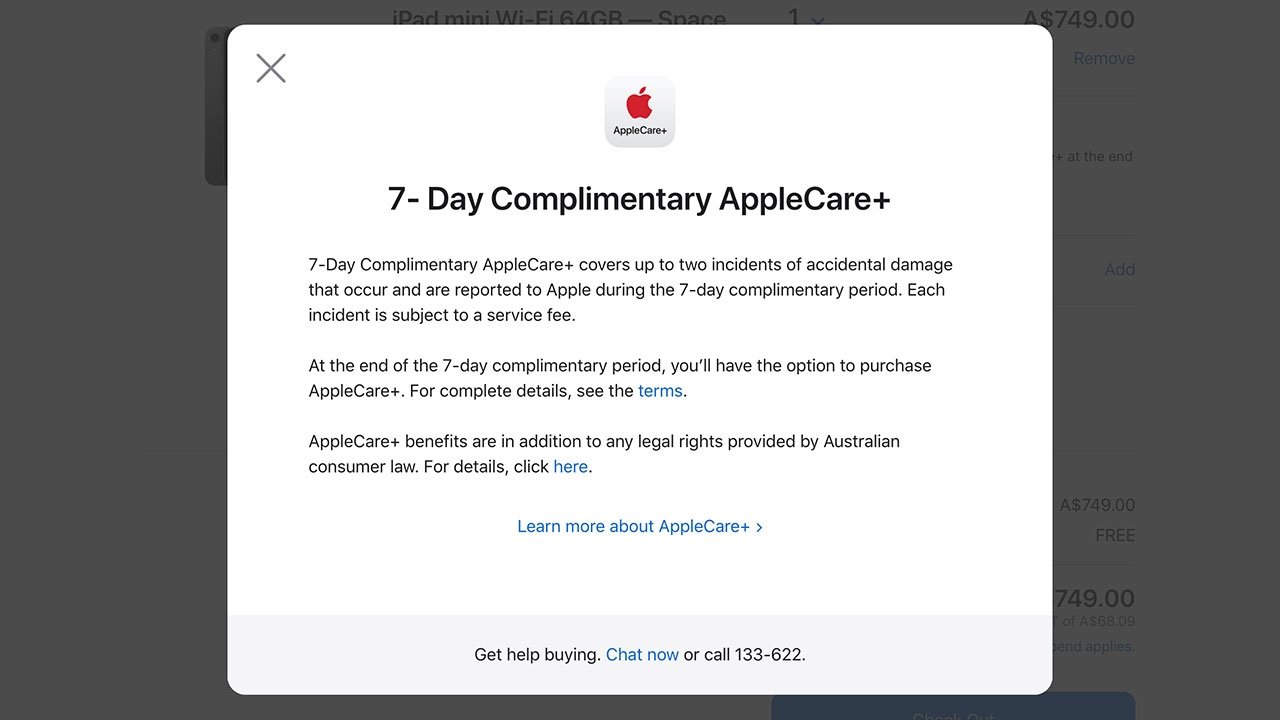 Apple this month enacted a new warranty policy in Australia that nets customers a short period of gratis AppleCare+ service with most major hardware purchases.
As of Oct. 5, Australian customers purchasing iPhone, iPad, Apple Watch, Mac, Apple TV, AirPods, HomePod, iPod touch and other eligible Apple devices receive a seven-day complimentary AppleCare+ plan that affords all the trappings of a full subscription.
According to Apple's terms and conditions, the free AppleCare+ service covers two incidents of accidental damage within the seven-day period, with each claim subject to the usual service fees. Also included is express replacement service, priority access to telephone or web-based technical support and battery service.
The complimentary plans does not renew automatically and users need to purchase AppleCare+, either through a subscription or fixed-term agreement, to continue service when the seven-day term expires. Purchases are processed on-device in the Settings menu, online, at an Apple Store or by phone.
Theft and loss are not covered under the free plan, though users can upgrade to the more expensive option once the week is up.
9to5Mac spotted the change earlier today.
It is unclear why Apple is including a week of AppleCare+ with new purchases, as the plan is of limited benefit to most customers. Enhanced coverage is typically not required until later in the product's lifetime and other services, like technical support, are already offered under Apple's standard warranty.
The decision could be a result of Australia's strict consumer regulations. The country has tangled with Apple in the past over its business practices and is currently mulling action to more closely monitor and manage Apple Pay and the App Store.
Source: Appleinsider

Related Articles

Apple Still Signing iOS 11.3 Beta 5/6, Downgrade to It to Jailbreak Your iPhone How to Download Apple's Official iOS IPSW with One Simple Step? Backup Your iOS Device When It's Disabled or in Password in Normal Mode ICCID Activation Bug can Factory Unlock Any iPhone with a Turbo SIM iFixit Releases Fun x-ray and Internal Wallpapers for iPhone XR iPhone X to be Available in New "Blush Gold" Color on Jan, 2018 Apple iPhone 7 Plus with Leaked Photos and iPhone 7's Packaging Box PanGu Won't Release iOS 10.3.1 jailbreak Tool?